Neo-Human Casshern is the original Casshern series created by Tatsunoko Productions, written by Tatsuo Yoshida and directed by Takao Koyama. It ran for 35 episodes from October 2nd, 1973 through June 25th, 1974 on Fuji TV.
The series is about Tetsuya Azuma who turns himself into an android named Casshan to defeat Robots who are taking over the world.
Video Release
Edit
As part of a licensing deal with Tatsunoko in mid-2013, Sentai Filmworks obtained the rights to Neo-Human Casshern for a Region 1 video release on January 21, 2014.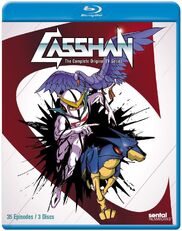 External links
Edit
Ad blocker interference detected!
Wikia is a free-to-use site that makes money from advertising. We have a modified experience for viewers using ad blockers

Wikia is not accessible if you've made further modifications. Remove the custom ad blocker rule(s) and the page will load as expected.