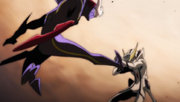 Morality was once the differentiation of intentions, decisions, and actions between those that are good or bad, and right or wrong. Basic Morality was lost along with the Ruin, since most of the living population was either silently depressed, driven to insanity or filled with the lust for death. But there are those who remain that believe in some sort of belief in past morals, which Casshern encounters on his journey.
Aspects of Morality
Edit
After the Ruin, much of the worlds morals and intentions were lost due to the constant death and decay. But those who resisted depression and insanity remain with atleast one aspect of Morality, which Casshern encounters on his journey.
Ad blocker interference detected!
Wikia is a free-to-use site that makes money from advertising. We have a modified experience for viewers using ad blockers

Wikia is not accessible if you've made further modifications. Remove the custom ad blocker rule(s) and the page will load as expected.